Details of the stay / procedure of arrival and departure.
Including all additional costs
Please let us know in advance when you will arrive
Check-in from 3.00 p.m.
When you arrive- Please give us a call on
0170 597 1919
On-site contact will be made
The keys are handed over and the rental property is handed over to you
All questions will be answered and details clarified
Please just leave the key in your room from the inside
Check-out until 9.00 a.m.
If you want to leave earlier or later please make sure to contact us in advance
If you were satisfied we would appreciate a great review on Google
We wish you all the best and a pleasant continuation of your trip
Gladly until next time
Frequently asked questions
# What is included in the price?
The gross rental price includes:
7% sales tax
All additional costs
Use of the booked room (Kuku Ruku Standard)
Shared use of common areas and outdoor facilities (Kuku Ruku Standard)
# What should I bring myself?
You should bring the following if needed and is not available in the accommodation:
Personal hygiene items etc.
Slippers, towels etc.
Drinks and food etc.
# What is the Kuku Ruku standard?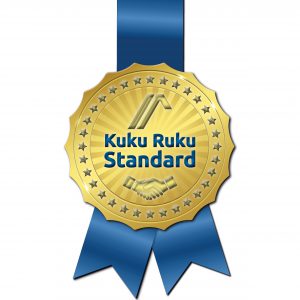 Every bookable room in every bookable flat has at least the following standard.
The Kuku Ruku Room Standard:
Single beds with bedside table + lamp
Pillow, blanket incl. 1x bed linen
Smart TV, W-LAN, Sat TV + Netflix
Wardrobe
Associated fridge with freezer compartment
Sitting area with table
All rooms are directly accessible
Windows with fly screens
Every bookable room has at least this standard.
The Kuku Ruku Flat Standard:
Free W-LAN + parking spaces in front of the building
Shared kitchen with cooker & oven + inventory
Coffee maker + microwave + kettle
Shared seating area
Shared bathroom (2-3 rooms) with washing machine / dryer
Weekly cleaning of the common areas
Windows with fl y screens
Each bookable apartment has at least this standard.
# Private rooms / common rooms
The room you book is exclusively for your personal use. Each room door can be locked with a modern cylinder lock. The Kuku Ruku room standard applies.
Shared is the wifi, parking and outdoor areas, stairwells and hallways as well as the kitchens with dining areas, bathrooms with washers/dryers and the restrooms. The Kuku Ruku apartment standard applies.
# Parking spaces
Enough parking spaces for cars and bicycles are located directly at the house in front of the building. By arrangement, motor homes and trailers can also be parked for an additional fee. In about 1 minute walking distance there are additional public parking spaces.
# Public transport / Taxi
Buses leave approx, every 30 minutes to hour on weekdays to Aalen etc.
A cab service is available for about 20 € to Aalen to the main station / ZOB (Zentraler Omnibusbahnhof).
Nearest bus stops:
Mittelklinge (OVA lines 14-16 in the direction of Aalen)
Sandfeldstraße (OVA lines 27-29 in the direction of Aalen)
Himmlingsweiler (OVA lines 27-29 in the direction of Aalen, Omnibus Lang line 12 in the direction of Abtsgmünd)
The timetables can be viewed at:
# Surrounding area
The Kuku Ruku Aalen-Himmlingsweiler is centrally located and yet in a quiet environment. Many different stores, supermarkets and restaurants can be reached within a few minutes by car and also partly on foot. Connection to the public transport network exists. The city of Aalen is home to a lively, charming nightlife and offers a variety of opportunities for leisure and recreation. Stores for material, tools and working needs are numerous.
Distances:
Nearest supermarket: 1 km
Nearest gas station: 1 km
Central station Aalen: 9 km
City center Aalen: 9 km
Federal highway B29: 3 km
Freeway A7: 12 km
Recommendations for recreational activities:
# Why Kuku Ruku?
We want to create an environment where we can live freely and safely. The accommodation is functional, practically furnished and maintained according to the standards of the 21st century. If you want, log on to the wifi, take a hot shower, cook a delicious dinner and make yourself comfortable in front of the smart TV. Enjoy the Netflix program or the night's rest. Just move in, it works. We guarantee the Kuku Ruku standard and offer affordable rates with discounts in a complete package for flexible rental periods. We clean the common areas weekly and are the contact person for questions on site at "Kuku Ruku", the "temporary home".
# That means flexible rent
The rule is: Before 12 noon / 48 hours.
Up to 48 hours before the start of your booking, you can cancel your booking free of charge. If you wish to end your booked stay early you will only pay for the next 48 hours. Cancel before 12 noon. The general terms and conditions apply. This is flexible.
Kuku Ruku – The temporary home
Request availability without commitment